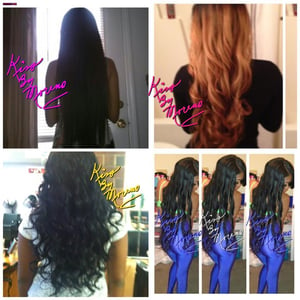 $

190.00
IF YOU MAKE AN ORDER USING A MALE CREDIT & DEBIT CARD, OR PAYPAL ACCOUNT. PLEASE SEND US AN EMAIL IMMEDIATELY AFTER YOU PLACE YOUR ORDER STATING THAT I __________ CERTIFY THAT I AM AUTHORIZE TO USE THIS CARD ENDING IN ___ OR PAYPAL ACCOUNT WHICH IS ____. PLEASE PUT THE LAST 4 DIGITS OF THE CARD OR THE PAYPAL EMAIL. FAILURE TO DUE SO WILL RESULT A DELAY OF YOUR ORDER. MEANING WE WILL NOT PROCESS AND SHIP UNTIL WE RECEIVE THIS CONFIRMATION!! THANK YOU FOR UNDERSTANDING .
Al & Noreno
Our hair is unprocessed virgin hair meaning that it can be bleached, dyed or relaxed. Color and process at your own risk. We ask that you seek a licensed cosmetologist when doing this. We assume no liability or responsibility for errors or inaccuracies when altering your hair.
Please make sure you double check your order before checking out. If you have any questions or want to have all same lengths please email us at kissbynoreno@gmail.com or call 678-883-2479 If no one answer please send a text message.